50 Cent Mocks Terry Crews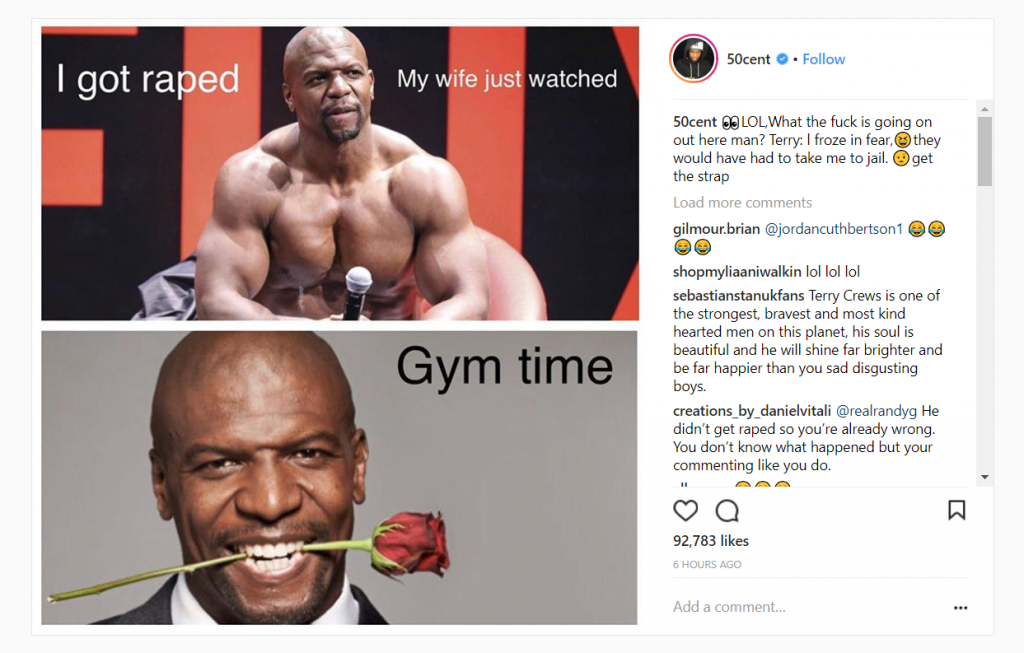 50 Cent is known for trolling and not afraid to poke fun at anyone on social media, whether you're his friend, colleague, enemy it doesn't matter to him because anyone can get it
50 Cent's next victim is no other than Terry Crews, making fun in the mist of his sexual harassment case he is dealing with. 50 Cent can't seem to comprehend how a big strong man like Terry Crews allowed himself to be molested in front of his wife. Terry Crews went to court and stated that the current climate that America is in right now and being a black man would've ended not only his career but most likely his freedom. Terry Crews told the court room: "The assault lasted only minutes, but what he was effectively telling me while he held my genitals in his hand, was that he held the power – that he was in control"
50 Cent is receiving backlash about toxic masculinity and his actions are apart of the reason why men don't come forward about being abused. However the rapper said it was a joke and people are way too sensitive.
https://www.instagram.com/p/BkiRlRbliA-/?hl=en&taken-by=50cent
We hope the rappers actions hasn't put off anyone that has been abused in fear of getting ridiculed by the public.
---